AWARD Fellow and One Planet Laureate Candidate win the 2020 Young African Phosphorus Fellowship Awards
Dr Mariam Soma and AWARD Mentor Professor Kingsley Etchu at the 2019 Cohort 2 Pan-African AWARD Fellowship Mentoring Orientation Workshop (MOW ) held in Nairobi.
Dr Mariam Soma, a 2019 AWARD Fellow, from Burkina Faso and Dr Austin Phiri, a 2019 One Planet Laureate Candidate from Malawi are among five recipients of the 2020 Young African Phosphorus awards.
The Young African Phosphorus Awards include USD $5,000 conferred to five early-career African scientists each to support research focusing on understanding and improving phosphorus management in agroecosystems. The awards are sponsored by the African Plant Nutrition Institute (APNI), Mohammed VI Polytechnic University (UM6P), and the Office Chérifien des Phosphates (OCP) Group.
Soma is a researcher at Burkina Faso's Institut de l'Environnement et des Recherches Agricoles (INERA) while Phiri is Chief Agricultural Research Scientist in Malawi's Ministry of Agriculture, Irrigation and Water Development. Both are beneficiaries of the Fellowships initiative of African Women in Agricultural Research and Development (AWARD). Through the Fellowships, AWARD invests in building the science, leadership, and mentoring skills of high-potential agricultural scientists, empowering them to contribute more effectively to alleviating poverty and increasing food security in sub-Saharan Africa.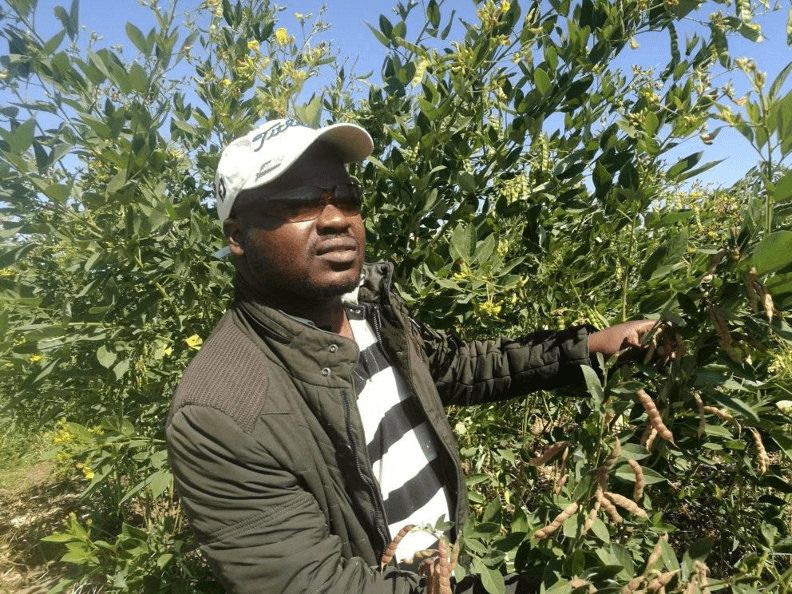 Dr Austin Tenthani Phiri on a farm visit
A key element of the Fellowships is the science series which includes participation in a week-long activity, the science week. During the science week, participants are offered a tailor-made seven-day course designed to develop and strengthen their capacity to write scientific research proposals and attract grants and effectively communicate scientific research results to various audiences. Upon completion of the course, AWARD supports Fellows and Laureate Candidates to develop research proposals and manuscripts and identify potential funders and publishers. The science series further includes participation in group research projects aligned to scientific publishing and grant writing.
Both Soma and Phiri have actively participated in the science series offered under the AWARD Fellowship and the One Planet Fellowship respectively.
"My proposal was conceptualised at the science week in Casablanca, Morocco in November 2019 and I am excited that it was successful!" exclaims Phiri in his communication about the award.
Soma equally acknowledged the support she has received from the AWARD Fellowship in building her scientific writing skills.
Congratulations to Mariam Soma and Austin Phiri on their award!