Ifeoluwa Olotu was taught about farming early although she wasn't allowed to frequently go to the farm, as she was "the baby" of the family. Her parents emphasized processing and preserving of crops, particularly yams, cassava, plantains, vegetables, and fruits. The family used most of what was produced, and her mother sold value-added products, such as plantain crisps, at the primary school where she taught.
Olotu's decision to study food science and technology at university was influenced by her experience as a child. "When I was growing up, I learned about challenges like malnutrition, hunger, and foodborne hazards, and understood that these are components of food insecurity," she says. She felt she should contribute to addressing this issue.
Field of Research
I want to use my skills, research, collaborations, and positions to contribute to achieving food security in Africa.
AWARD Fellow Wins L'oreal Unesco Research Fellowship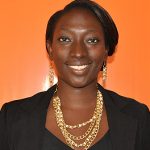 Winning this fellowship has made me to progress academically," says Olotu. "It has increased my visibility and networks and significantly led to the development of my scientific, problem solving and communication skills. I'm looking forward to encouraging the participation of women and girls in science.