Webinar: Gender-Responsive Investments in Africa's Agriculture for Inclusive Food Systems
| May 04, 2021, | from 9:00 GMT | See the event time in your time zone
The Forum for Agricultural Research in Africa (FARA) together with the Sub Regional Organizations (ASARECA, CCARDESA, CORAF, and AFAAS) and in partnership with African Women in Agricultural Research & Development (AWARD) and the Young Professionals for Agricultural Development (YPARD) will convene an independent virtual dialogue on Gender-Responsive Investments in Africa's Agriculture for Inclusive Food Systems under the UN Food Systems Summit. This collaboration seeks to present a strategic platform that fosters continental and global collective actions toward strengthening gender-inclusive private sector engagement in African Agricultural Research and Development.
Scheduled for May 4, 2021, from 09:00 am GMT, the virtual dialogue seeks to provide a platform for key stakeholders in agricultural research for development and the private sector to discuss game-changing options and solutions that will enhance gender-responsive investments in Africa's agricultural research and development for inclusive food systems.
The specific objectives are:
To facilitate a consultative e-forum to identify and discuss the main gender issues in agricultural research for development (AR4D)
To propose solutions to a gender-inclusive private sector engagement
To contribute towards a framework for advocacy for increased investment in gender-responsive approaches in AR4D.
To highlight strategies for implementation of post-summit actions towards gender-responsive food systems.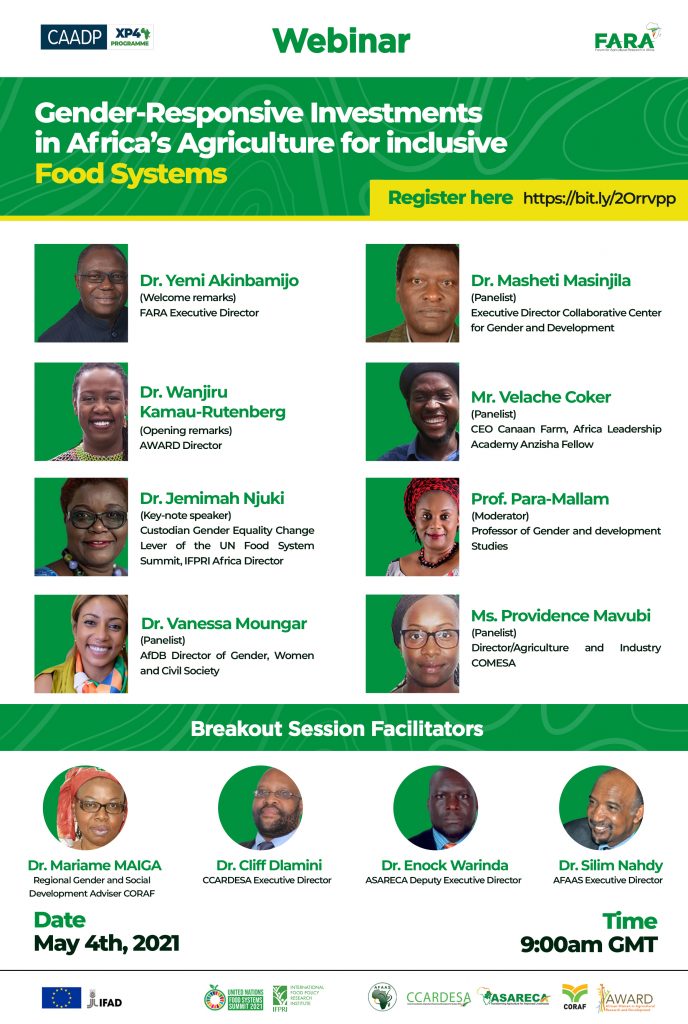 Attendance to the online event is free, and advance registration is required. Please register here.